The super successful combo is back!!! The makers of Pelli Choopulu along with overseas distributor, Freeze Frame Films brings you another new age Confusiontainer 'Mental Madhilo'.

Mental Madhilo is directed by debutant Vivek Athreya, music is by Prashanth R Vihari (Vellipoomake fame) and the film is bankrolled by PelliChoopulu producer and National Award Winner "Raj Kandukuri".

Sree Vishnu and Nivetha Pethuraj are the main leads and Raj Kandukuri is introducing yet another short filmmaker, Vivek Athreya after Tharun Bhascker with PelliChoopulu.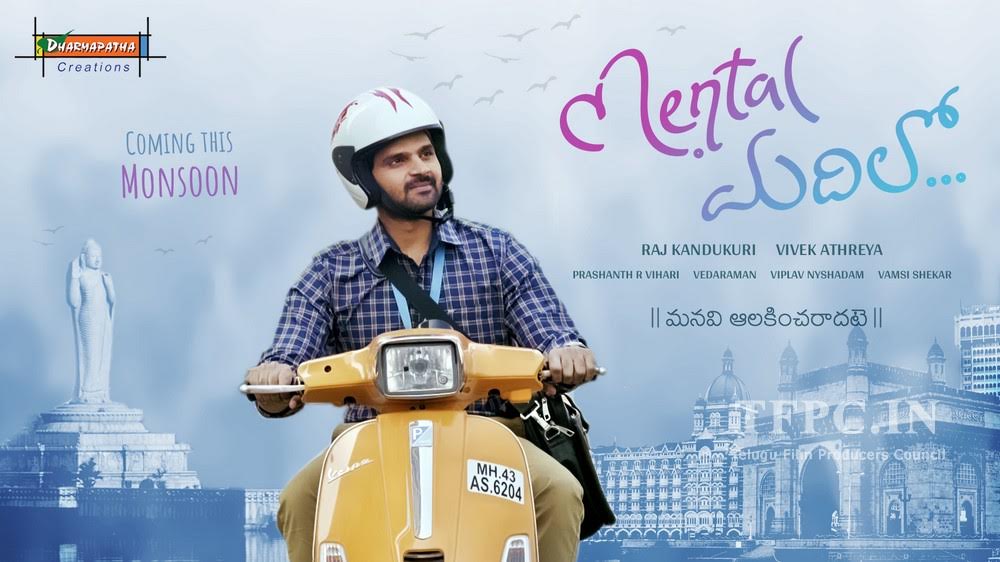 Cinemark 18 & XD
6081 Center Drive Suite 201
Los Angeles, CA 90045
Hot Line: (310) 568-3394


| | | |
| --- | --- | --- |
| Thu | (11/23) | 2:30 PM 6:00 PM 9:30 PM |
| Fri | (11/24) | 11:20 AM 2:55 PM 6:30 PM 10:05 PM |
| Sat | (11/25) | 11:20 AM 2:55 PM 6:30 PM 10:05 PM |
| Sun | (11/26) | 11:20 AM 2:55 PM 6:30 PM 10:05 PM |
| Mon | (11/27) | 11:20 AM 2:55 PM 6:30 PM 10:05 PM |
| Tue | (11/28) | 11:20 AM 2:55 PM 6:30 PM 10:05 PM |
| Wed | (11/29) | 11:20 AM 2:55 PM 6:30 PM 10:05 PM |

Movie has English Sub-titles.
Exhibitor: Freeze Frame Films - Kiran - 7276676771; Pradeep - 8472171258.
Nationwide distributor is directly releasing this movie in LA area.
Ticket price: Theatre Standard Pricing.
Online tickets links:
http://www.cinemark.com/theatre-detail.aspx?node_id=83827 ORhttp://www.fandango.com/cinemark1826xd_aapiw/theaterpage
Century Stadium 25 and XD
1701 W. Katella Ave.
Orange, CA 92867
Hot Line: 714-532-9558



| | | |
| --- | --- | --- |
| Thu | (11/23) | 2:30 PM 6:30 PM 9:30 PM |
| Fri | (11/24) | 11:20 AM 2:30 PM 6:00 PM 9:30 PM |
| Sat | (11/25) | 11:20 AM 2:30 PM 6:00 PM 9:30 PM |
| Sun | (11/26) | 11:20 AM 2:30 PM 6:00 PM 9:30 PM |
| Mon | (11/27) | 11:20 AM 2:30 PM 6:00 PM 9:30 PM |
| Tue | (11/28) | 11:20 AM 2:30 PM 6:00 PM 9:30 PM |
| Wed | (11/29) | 11:20 AM 2:30 PM 6:00 PM 9:30 PM |

Movie has English Sub-titles.
Exhibitor: Freeze Frame Films - Kiran - 7276676771; Pradeep - 8472171258.
Nationwide distributor is directly releasing this movie in LA area.
Ticket price: Adults - $12, Kids - $9.
Online tickets links: http://www.cinemark.com/theatre-detail.aspx?node_id=1639 ORhttp://www.fandango.com/centurystadium25andxd_aaegj/theaterpage
Edwards Mira Mesa Stadium 18 IMAX & RPX
10733 Westview Parkway
San Diego, CA 92126
Hot Line: 1-(844)-462-7342 ext.160



| | | |
| --- | --- | --- |
| Thu | (11/23) | 12:00 PM 4:00 PM |
| Fri | (11/24) | 10:10 AM 1:30 PM 7:20 PM 10:45 PM |
| Sat | (11/25) | 10:10 AM 1:30 PM 7:20 PM 10:45 PM |
| Sun | (11/26) | 10:10 AM 1:30 PM 7:20 PM 10:45 PM |
| Mon | (11/27) | 11:50 AM 3:10 PM 7:20 PM 10:00 PM |
| Tue | (11/28) | 11:50 AM 3:10 PM 6:35 PM 9:45 PM |

Movie has English Sub-titles.
Exhibitor: Freeze Frame Films - Kiran - 7276676771; Pradeep - 8472171258.
Nationwide distributor is directly releasing this movie in LA area.
Ticket price: Adults - $12, Kids $9.
Online tickets links:
http://www.regmovies.com/theatres/theatre-folder/edwards-mira-mesa-stadium-18-imax-rpx-2122 OR
http://www.fandango.com/edwardsmiramesastadium18imax26rpx_aaove/theaterpage OR
http://www.movietickets.com/theater/hid/7322/n/Edwards-Mira-Mesa-Stadium-18-IMAX-and-RPX#